Romney Edges McCain to Win Michigan
Tuesday, January 15, 2008 9:15 PM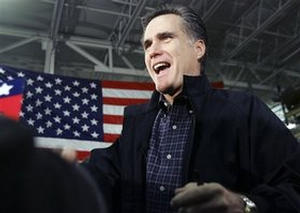 Mitt Romney greets supporters at a rally in Grand Rapids, Mich., in advance of winning the state's Republican primary.
DETROIT - Mitt Romney scored his first major primary victory Tuesday in his native Michigan, a win he desperately needed to give his weakened candidacy new life and set the stage for a wide-open Republican showdown in South Carolina in just four days.


Romney was the third Republican victor in the first four states to vote in the 2008 primary season, further roiling a volatile nomination fight that lacks a clear favorite.


The former Massachusetts governor defeated John McCain, the Arizona senator who was hoping that independents and Democrats would join Republicans to help him repeat his 2000 triumph here. Mike Huckabee, the former Arkansas governor, trailed in third, and former Tennessee Sen. Fred Thompson was waiting for the top three candidates in South Carolina, already campaigning. [more here]

No, I have not switched over sides. I am still on fire for Fred! But I am a Michigander first and foremost. This is a wonderfully historic moment and I want to share it with y'all regardless of the results.